Labrang, Amdo Tibet
Between March 10th and 16th, thousands of Tibetans peacfully protested in Labrang (officially named Sangchu County), Amdo Tibet (Tib: བསང་ཆུ་རྫོང་། Ch: 夏河县 Xiahe County, Gansu Province). After the protests, believed to be the largest ever in northeastern Tibet, hundreds of Tibetans were reportedly arrested and beaten by security forces. On April 9th, monks from Labrang Tashikyil Monastery disrupted a tightly-controlled government media tour for foreign journalists.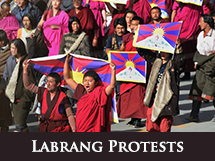 Incredible photos of protests between March 14-16th, 2008.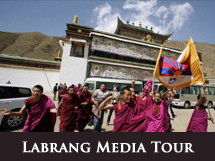 Monks boldly disrupt government staged media tour.