Tibetan Woman, Resident in Australia, who Participated in RFA's Tibetan Service Roundtable Discussion
The author of this account wished to remain anonymous
April 5th, 2008
Source: RFA Unplugged
I thought that this [the uprising] was the right thing to do. I participated in the protests and was among the protesters in the area of Ramoche monastery for about two hours. I knew that the protests were expressions of Tibetan despair over Chinese oppression in our own country. The actual suppression and crackdown by Chinese forces began on the night of March 14. At roughly 8 p.m., Tibetans in the Lhasa area heard that Chinese forces were coming. Manyleft and went to their homes, while others continued their protests. That very night I saw many Tibetans being taken away and Chinese armed police firing on Tibetans.
"Within a short period, about 200 Tibetans were detained. In the midst of the commotion, it was hard to tell who was alive or dead and who was taken away. I saw some Chinese with head injuries. Then, my sister told me that she had seen nine Tibetan bodies in the area of Luphuk. I myself saw a Tibetan woman and a man lying dead in Ani Tsangku hospital. When I arrived at the Lhasa City People's Hospital, I saw three Tibetans being brought in. One of the injured was Tenzin Norbu from Kham Pelbar. His sister brought him in, and I recognized him. He had been shot in the head, and the hospital suggested that he should be taken to the TAR People's Hospital. He was vomiting and may not have survived. That boy was very young—about 21 or 22—and according to his sister he was a student in a school just below Sera monastery. Another youth had also been shot in the head. He was bleeding heavily, and there was little hope for his survival.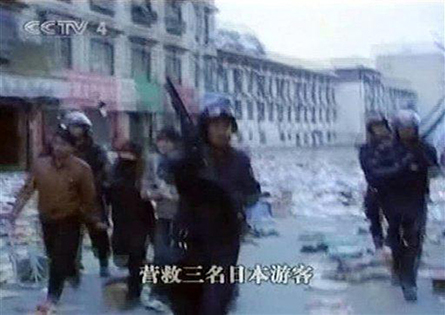 Another Tibetan youth had been hit in the hip and had about four bullet wounds.
I saw them myself. I heard gunshots on the 14th, 15th, and 16th of March. One of those who died in Luphuk was Lhakpa Tsering. He was known to us. He is survived by a young daughter. He was from Toelung Dechen and worked as a driver. He died on Friday and his funeral was planned for the following Monday, but local officials took his body for a post mortem because of the gunshot wound to his head. Later, they handed over some ashes in place of his body. Most of the Tibetan families whose loved ones were killed could not be traced.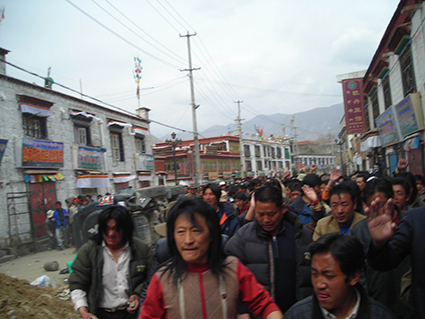 It was difficult to know whether they were alive or dead or under detention. Most of the dead bodies were taken away and disposed of by the Chinese.
While I was in Lhasa, I heard that Tibetans who were detained were not taken to Drapchi or Toelung jail because of unrest in those places. So many were taken to the Gutsa and Nyethang detention centers near the railway station. About 200 Tibetans were detained and interrogated at Nyethang. Even in Phenpo Lhundrub county, the Chinese television showed protests by farmers, monks, and students. The Chinese ran programs saying that the protesters had surrendered to government authorities. But when I talked with some people from Phenpo, they denied having surrendered and said the Chinese authorities were telling lies.
Original text: RFA Unplugged