Eyewitness Account of a Tibetan who was in Lhasa during the March Protests
The author of this account wished to remain anonymous
April 22, 2008
Source: Tibet Watch
"Everybody knows that the eruption of protests which took place in Lhasa on 10 March. I went to do some shopping at a friend's shop. There my friend told me that around 15 monks and nuns and around 20 lay Tibetans had staged a peaceful demonstration in the Barkhor because of the increased deployment of PSB in Lhasa. My friend told me that later the protesters were arrested by the PSB. Then I received phone calls from friends and relatives in Lhasa, all of whom warned me to be very careful and come home as soon as possible because the situation in Lhasa was not looking good.
On 12 March I heard that monks from Drepung Monastery were protesting everywhere. A couple of them apparently stabbed themselves. Since then Drepung Monastery has been sealed off. Nobody is allowed to enter or leave the Monastery. Some Tibetans believe that there were some people inside Tibet who masterminded the protests. A businesswoman who I met told me that an elder friend of her predicted the protests before 10 March. She said that the person had an extensive political background and was aware of many things.
On 14 March, I saw a police car parked blocking the gate of the Ramoche temple. Later, friends told me that the police had there since 11 March. It was around 11 o'clock in the morning and around four monks came to the police car and demanded they remove the car from the gate. I was watching with several other Tibetans from about 100 meters away. There were about ten policemen engaged in talks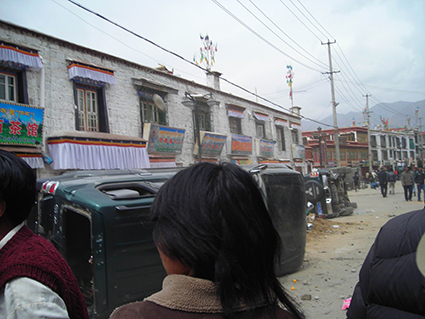 with the four monks around the car. In the meantime, around 50 monks joined the four monks. The number of monks outnumbered the policemen at that time. Then all of the policemen and monks went to the roof of Ramoche temple. They were talking to each other on the roof. I didn't hear because I was about 100 meters away from them, but I could see the gestures of the monks pointing to the car and demanding the removal of the police blocking the Monastery's main gate. There were many of us watching them from a distance.
Then another police car came to the place. A senior policeman ordered all the monks and police to come down from the roof and asked all the people who were watching to move. A man from Kham asked why we couldn't watch and a minor scuffle broke out between police and the Tibetan onlookers. During that time they were only around 30-40 policemen and they ran away. The monks and other Tibetans lifted the police car and removed it from the Monastery's main gate. All the Tibetans started shouting Free Tibet, Long Live His Holiness, We Want Freedom. Then after a while, five trucks of armed police were brought in. They fired tear gas into the crowd so all the Tibetans ran away in different directions. I ran to behind the Ramoche temple. Some monks shouted at the Tibetan public not to run, so many didn't and faced the crackdown by armed police. They continued shouting "Free Tibet" and "Long Live The Dalai Lama."
Behind the Ramoche temple, opposite the City Police Station, there were 200 of us Tibetans and many more in front of Ramoche. Around fifty policemen saw us from Ramoche Street and showed us their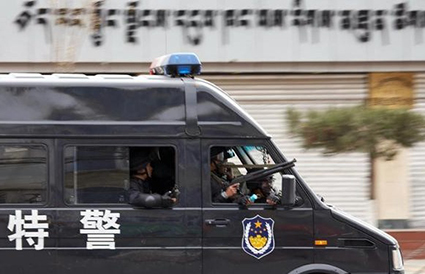 handcuffs – a warning to us that we may be arrested. Some policemen were carrying video cameras and taking footage. I saw that an old Tibetan man, around 50-60 years old, and his son (around 6 years old) were injured. They were bleeding and around five policemen pushed them into a police van.
Around that time, we heard gunfire in front of Ramoche temple. It was like a war with much gunfire. I saw five bodies being put on to army truck at Ramoche temple. The situation became very tense. It was very dangerous. So I tried to go to my hotel. But it was impossible to go on the normal streets because of lots of clashes between Tibetan protesters and police in the Ramoche area. Tibetans were throwing stones at police and the police were firing tear gas into the Tibetan protesters.
I managed to get to behind the Jokhang temple. The air was filled with smoke. I saw four bodies of very young Tibetans in their twenties. They were two girls and two boys lying in blood. I met a friend there who told me that the four of them were students. A friend told me that the two boys died after about ten 20 minutes of being shot. One of the boys told my friend, who was crying, not to cry because people were dying for a good cause. He asked my friend to put some holy pills in his mouth, and then he died.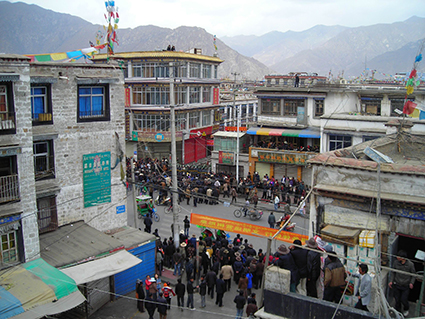 I also saw twenty bodies lying in Beijing Road but I didn't manage to see them closely because it was very dangerous. Then I returned to my hotel in the evening. I watched from the roof of my hotel. Lhasa looked like a battlefield and I continued hearing more and more gun fire and seeing more smoke in the air. It was very dangerous and I stayed in my hotel room.
From my hotel I continued hearing around five groups of Tibetan protestors, which from the sound of their voices seemed to comprise 200 to 300 people, demonstrating one after another on Beijing Road shouting Long Live the Dalai Lama, Free Tibet, etc.
Friends called from Luphug area and told me that they saw the bodies of six Tibetans who were brought on three rickshaws. A relative told me on the phone that she saw two Tibetan men and one woman chased by a group of around nine armed police. The police opened fire and the woman fell down. She stood up and again gunfire was heard. Then she fell down completely. The two men managed to run away. An old Tibetan bystander rushed to the site and took care of the body of the woman. The armed police who killed her said nothing and left the scene.
Earlier in the day, I also saw a Tibetan woman with a white top killed in front of the Gamchun Restaurant. I saw police dragging her body towards a police van close by.
On 14 March, the demonstrations started around 11am and ended around midnight. Throughout the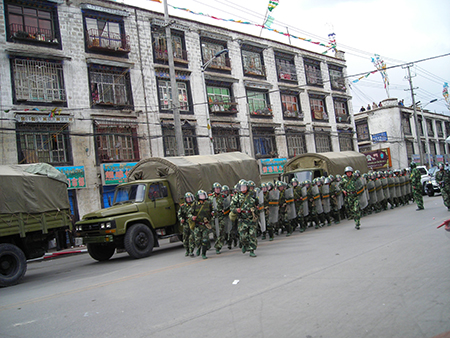 day, we continued hearing gunshots and explosions. The number of armed police kept on increasing. I myself saw around forty tanks roll into Beijing Road. I believe that there were at least one hundred tanks brought in to the city. Before nightfall, I myself saw two tank-like army vans with around six armed soldiers on each, opening fire in Beijing Road in every direction. In the morning on 15 March, friends in the hotel told me that an old Tibetan woman saw around 500 bodies in front of the Jokhang temple. She saw them before daybreak but the bodies were no longer there by the morning. I can say with confidence, that the death toll of Tibetans is much higher than the Exile Government's estimate of one hundred. I saw around forty bodies myself and friends told me of many more bodies at different locations in Lhasa.
A business partner of mine told me on the phone on 15 March morning that armed police opened fire on a Tibetan family in Karmakutsang and killed all the family members, even their children, inside their house the previous night. A large number of PLA were brought in to the city on 15 March. Massive arrests started taking place since 14 March, even of Tibetans who they had no evidence against having taken part in the protests. For example, a shopkeeper called Sherten Gyakpa was arrested while he was closing his shop despite not having been involved in the demonstrations.
A Tibetan policewoman told me of killings and beatings that took place on Guru Bridge Road on 14 and 15 March. She described how she saw armed police beating Tibetans to death and that the road was filled with blood everywhere.
Friends told me that a group of Tibetans waving white scarves circumambulated the Jokhang temple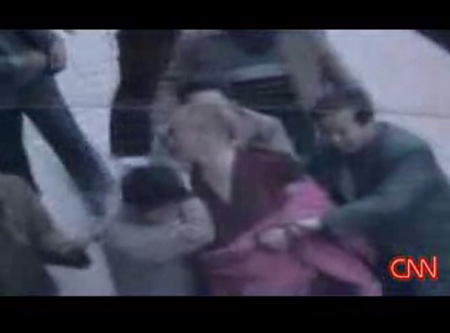 three times during the morning of 14 March. They shouted, "We want freedom, Long live His Holiness the Dalai Lama, Release the Panchen Lama, allow the Dalai Lama to return home." After making these three rounds, they started warning the shops around the Barkhor to close. When armed police started cracking down on the demonstrators with force, clashes broke out. Most of the demonstrators faced the PLA and many were killed and others had their legs or arms broken. A 70-year old Rinpoche was severely tortured in prison but released after the authorities learnt that he did not take part in the demonstration. This Rinpoche told his friends that many Tibetan demonstrators were dying in prison.
Because of the massive number of arrests, jails in Lhasa were full so many arrested Tibetans were taken to Gormo (Ch: Golmud). Everybody has been talking about this. Since 14 March, every Tibetan in Lhasa without an identity card has been arrested. Checkpoints were established every 100 metres and anybody found with a photograph of the Dalai Lama was made to tear the picture and stop on it. If people refused they were threatened with torture and imprisonment. I was in line as such a checkpoint on 16 or 17 March. An old Tibetan man of about 75 years old was caught with a photo of the Dalai Lama. He refused to tear or step on the photo and was immediately knocked down. I saw blood spilling from his head. Two armed police were pointing guns at him and another handcuffed him and they took him away.
Starting from 15 March, announcements were made on television in both Tibetan and Chinese for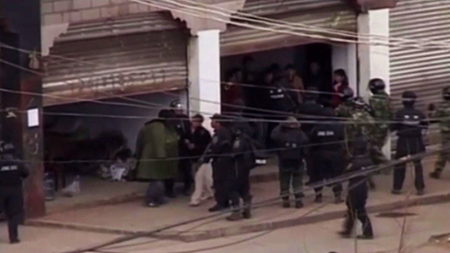 protestors to hand themselves in. On 16 March they showed around 200 Tibetans from Phenbo county surrendering on television. House to house searches were also launched. Around five armed police came to each house and ordered all the family out while they searched for banned objects, including photos of the Dalai Lama and Tibetan flags. Of course, everybody had to listen to their order or otherwise they were ready with arms to crack down on people who were reluctant. Since the hotel where I was staying was leased to a Chinese businessman, several armed police came to the hotel but they didn't search it. They told the hotel owner not to let westerners stay at the hotel. Beating and torture was common during that weekend of 15 and 16 March.
Since 12 March, Drepung Monastery has been sealed off. Nobody is allowed to enter and exit the Monastery. As far food is concerned, nobody was allowed to deliver any. It was the same situation with Sera and Ramoche monasteries. They have been sealed off since 14 March. There were around at least 1500 soldiers surrounding Drepung and Sera monasteries and around 700 surrounding Ramoche temple. Since 15 March phone lines to the monasteries were cut and the public were not allowed to go to those monasteries. So it has been difficult to know what has been going on at those monasteries."